At Belle Cour, a sanctuary awaits. We are your premier destination for massage therapy, offering a serene oasis amidst London's hustle and bustle. This is a place where self-care takes centre stage, where your well-being is our priority, and where we offer an unparalleled therapeutic experience.
We blend our professional expertise with a genuine passion for wellness. Our dedicated team of therapists utilise the latest techniques and a holistic approach providing the perfect massage tailored to your needs. Our mission is simple – to ensure you leave feeling relaxed, rejuvenated and revitalised.
Choose Belle Cour: The Ultimate Choice for Massages in London
Why choose Belle Cour for your massage needs? The answer is simple: because we put you first. Our experts are passionate about their craft, continually upgrading their skills to stay on the cutting edge of massage therapy. Every moment at Belle Cour is designed around your comfort, ensuring a tranquil, soothing environment for you to unwind.
Prioritising Self-Care: Your Health is in Your Hands
We believe that massage isn't just a luxury – it's a crucial part of self-care. Taking time for yourself isn't a selfish act; it's a necessary step towards wellness. Each session at Belle Cour is a moment of serenity, a break from the hustle and bustle of everyday life, allowing you to regain energy, reduce stress and improve your overall health.
Health Benefits of Massage Therapy: More than Just Relaxation
Beyond the relaxation that a massage brings, there are numerous health benefits to this therapy. Regular massages can help improve circulation, lower blood pressure, and promote better sleep. It can also help alleviate symptoms of anxiety and depression, creating an overall sense of well-being. At Belle Cour, our massages are not just a treat; they're a treatment.
A Holistic Approach: Treating the Body, Mind, and Spirit
At Belle Cour, we understand that the body and mind are interconnected. This is why our approach to massage is holistic, considering not just your physical needs but also your emotional and mental health. Every massage we provide aims to create balance within your body, relieving tension, reducing stress and promoting a sense of inner peace.
Professional Massage Therapy
At Belle Cour, we know that massage therapy is no luxury – it's an essential part of taking care of your health and well-being. Our team of professional massage therapists is specifically trained to provide the highest quality TLC to your entire body, leaving you feeling completely refreshed and recharged afterward.
No matter what kind of massage you go for or whatever your needs might be, we guarantee that our experienced masseurs will work their magic and make sure you leave completely revitalised.
So why not book an appointment at Belle Cour today? We promise it'll be the best decision you'll make all day. Here's what you can look forward to:
Full-Body Massages: Unwind and relax with a full-body massage. We use special oils to soothe your muscles and revive your senses. And if you need a facial, we can club that in, too.
Shoulder, Arm and Torso Massages: Work out the knots and tension with a massage specially designed for your shoulders, arms and torso. This is the perfect solution for spasms and strained muscles.
Lower Body Massages: Get rid of backache, leg pain and water retention with a lower body massage. This kind of massage focuses on the most intensively-used areas of your body for optimal relief.
Sports Massages: If you're physically active and often feel soreness in your muscles, sports massage is just what you need. Our therapists use special oils and deep tissue treatments to reduce swelling and re-energise you.
Massages for New Mums & Mums-to-Be: Whether you're a new mum or expecting to be one, our specially-designed treatments can help. They'll improve your circulation and reduce swelling while toning your tummy – all with prenatal-approved products.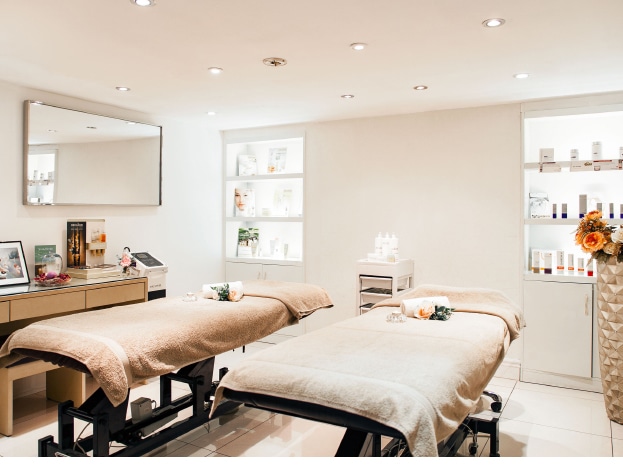 Experience the Belle Cour Difference
When it comes to massage therapy in London, Belle Cour stands unrivalled. Whether you're in need of a full-body massage, a targeted treatment for a specific area, or a sports massage to rejuvenate tired muscles, we're here to offer the best care possible. Book your appointment today and experience the Belle Cour difference. Your body will thank you.
Schedule your appointment today!
Schedule your appointment today
Our services include cleansing, exfoliation and extractions that can be customised to your skin needs.