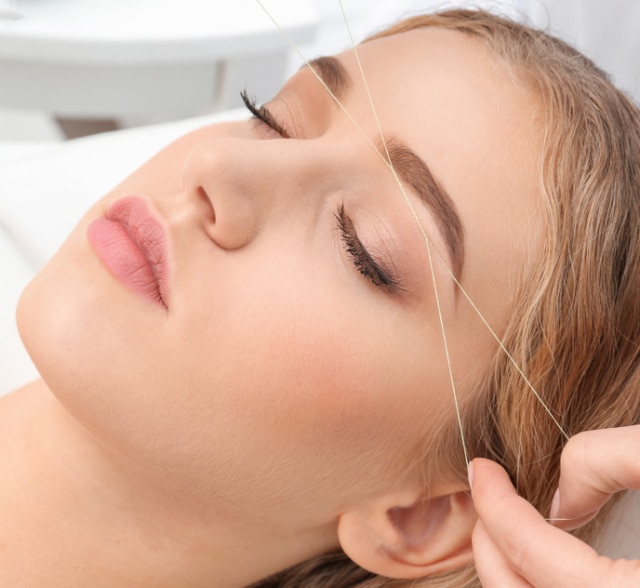 At Belle Cour, we use the ancient art of threading to deliver precise and beautiful results. Our certified technicians will shape your eyebrows with the utmost care and hygiene. With Belle Cour's threading services, you can look your best for any occasion—from a workday or dinner date to a night out on the town.
What Is Threading and How Does It Work?
Threading is an ancient hair-removal technique that originated in the Middle East and Asia. By using special threading tools, our trained technicians twist the thread before rolling it over unwanted hair, which collects and grasps the hair with each pass.
This technique is effective in removing both small and large amounts of hair, giving a clean, precise look to the eyebrow area. The process is best known for creating perfectly shaped eyebrows with smooth skin.
Experienced Care
Our certified technicians are experts in the art of threading and can help you achieve beautiful, natural-looking eyebrows. We use only the highest-quality threads, and our facilities are always hygienic and sanitary.
We're dedicated to customer satisfaction and strive to make sure that you're always happy with the results of our threading services. That's why every threading process is personalised to your needs and preferences.
Benefits of Threading
Threading services offer many benefits that make them a great choice for anyone looking to maintain their eyebrows or other facial features. What's more, threading provides a precise and clean look that is difficult to achieve with other methods. This means you can get the perfect shape for your eyebrows without any extra effort.
Threading is also known to be an incredibly gentle way of removing hair. Unlike tweezing or waxing, threading does not cause any skin irritation or damage. This makes it especially suitable for those with sensitive skin. Overall, it's much quicker and less painful, making it ideal for those with busy lifestyles.
Book Your Personalised Threading Today!
Let Belle Cour make sure that your eyebrows are always looking their best. Our threading services will help you achieve perfect, natural-looking eyebrows that will last. Book your appointment today and get ready to wow the world with your beautiful new look!






Schedule your appointment today
Our services include cleansing, exfoliation and extractions that can be customised to your skin needs.