Belle Cour is a stunning beauty salon in Victoria that allows people to pop in, relax and escape the rat race that faces them every day. We offer an extensive range of nail and beauty treatments all in a stylish, sanitary and welcoming environment where your wellbeing and comfort are paramount. Your satisfaction is our achievement and this pushes us to strive for perfection. Our fabulous range of beauty treatments include: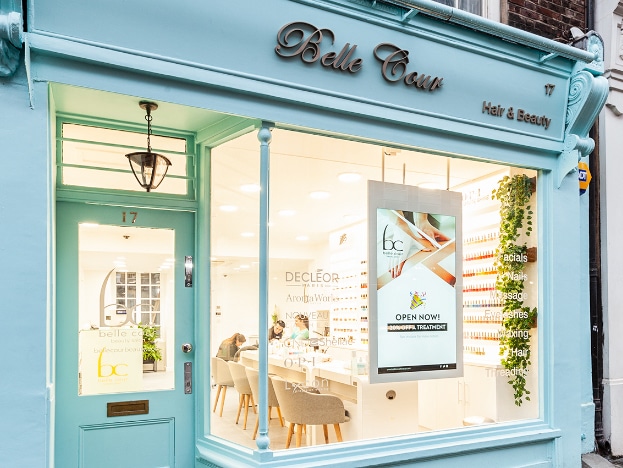 Our exclusive partnership with award winning professional brands means that we are endorsed by the global leader in professional beauty products, allowing you to be confident that you really are in the best hands! All our treatments only use the finest products and are completely handpicked.
Belle Cour aims to be one of the most valued and reputable beauty service brands in London. Aspiring to become synonymous for superior quality, we will go above and beyond to fulfill every need of each individual customer and create an unparalleled salon experience.
Our passion is your satisfaction; plain and simple. Delivering quality and creating a stream of content customers is what inspires us to open our doors everyday and welcome in both new and old customers who are looking for a superb experience that will make them want to return. On top of this, we thrive off following new fashion trends and looks that will keep us one dynamic step ahead of the rest.
By building up an unrivalled reputation and delivering high-quality treatments, we hope to become a household name that customers go to without thinking of trying out anybody else. Our collaboration with CND will help us to gain even more trust in our brand, as well as assist in making our vision for the future a reality. We never want to lose sight as to why we do what we do, and in this case our customers spur us on. Being able to boost confidence through beauty treatments is exceptionally rewarding and when somebody walks out of our salon feeling empowered and good about themselves it makes us want to spread our services further.
Schedule your appointment today
Our services include cleansing, exfoliation and extractions that can be customised to your skin needs.